Personality Questionnaires for Recruitment & Selection
What is a Personality Questionnaire?
In recruitment, personality questionnaires are used to assess a candidate's personality profile, that is, how they like to work, approach problems, stay motivated and what drives their emotional reactions.
When taking a personality assessment, candidates will generally be presented with several statements relating to behaviour and motivations in the workplace and asked to rate the extent to which they agree or disagree with them.
The answers provided by candidates are then used to build a more well-rounded view of their personality in relation to the role being applied to.
Once a candidate has completed their personality questionnaire their results will be compared to a norm group. This allows recruiters to better understand candidates in relation to a general average and thus make more informed decisions on who is being hired.
It's important to remember with personality questionnaires that there are no right or wrong answers.
---
Personality Questionnaires in Recruitment
Our personality questionnaires are designed to explore an individual's tendencies and preferences within the workplace. Through extensive research with organisations into business critical roles, we have developed and refined two comprehensive off-the-shelf personality questionnaires:
The Criterion Core
21 scale questionnaire offering insight into typical preferences and tendencies for behaviours, feelings, values and motivations that are important in the workplace. Make sure you use this questionnaire if you would like access to the Sales Potential and Team Types reports
The Criterion Enhanced
30 scale questionnaire which builds on the Criterion Core, offering a deeper, more penetrating insight across a breadth of elements of personality. Make sure you use this questionnaire if you would like access to the Leadership report
Our Criterion Workforce Personality Questionnaire is an additional tool available, specifically designed to assess personality areas recognised as important in blue collar, production and manufacturing roles.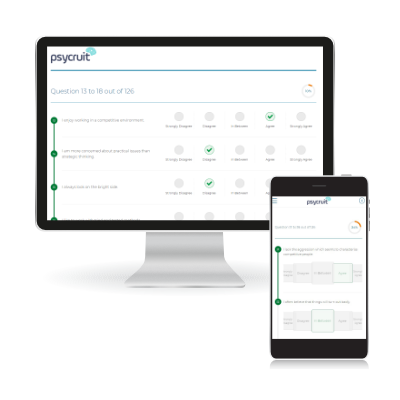 Bespoke Personality Questionnaires
Psycruit personality questionnaires are built to be flexible. This means you can quickly and effortlessly create your own personality questionnaire to tap into those traits you are looking for in your candidates.
Tailor and customise your questionnaire to fit your business model, values, or competency framework and then create it in a matter of minutes with our easy-to-use questionnaire builder. Pick any combination of the 46 scales available in the Criterion Attribute Library (CAL) to power your bespoke questionnaire and generate custom reports.
Interpersonal Style
How they relate to people
Scales include:
Adaptable³°
Approachable
Assertive²¹
Direct
Gregarious²¹
Independent
Influential²¹
Listening²¹
Poised³°
Thinking Style
Their approach to tasks, decisions and challenges
Scales include:
Creative²¹
Decisive²¹
Detail focused
Rational²¹
Rigorous³°
Risky
Strategic²¹
Structured
Tenacious
Emotional Style
Their reaction to the emotional demands of work
Scales include:
Calm³°
Disclosure
Emotional analysis
Internal control³°
Optimistic²¹
Resilient²¹
Self sufficiency
Self-esteem²¹
Stress management²¹
Motivational Values
What they find rewarding and energising in a job
Scales include:
Caring³°
Friendship²¹
Money
Originality
Praise
Self-development³°
Status²¹
Striving²¹
Variety²¹
Culture Fit
The organisation and team culture in which they work best
Scales include:
Authority
Change²¹
Competition²¹
Ethics³°
Humour²¹
Intelligence
Loyalty
Order²¹
Profit³°
Workforce Personality Scales
Standalone questionnaire tapping into traits desirable in production and manufacturing roles
Scales include;
Mechanical empathy
Team membership
Leadership
Quality
Energy
Cheerful
Pace
Tenacity
Social desirability
---
Reports
Covering recruitment, selection and development purposes, our suite of reports explore in depth the individual's personality profile and provide you with powerful insights into their tendencies and preferences at work.