Situational Judgement Test Advice
---
What you need to know
Situational judgement tests are somewhere between an ability test and personality questionnaire. They present you with a range of scenarios, which you review before deciding the best approach to take to deal with the issues described.
Your responses to each scenario are used to build a picture of your style and abilities in relation to analysis, problem-solving and decision-making.
Employers use Situational Judgement Tests to:
Understand how you might respond to real situations and challenges in the job
Identify the effectiveness of your judgement
Give you an insight into the the situations and demands you would face in the job
The results from situational judgement tests are usually combined with information from other tools and activities, such as application forms, assessment exercises and interviews, which can give you the opportunity to comment and elaborate on your responses to the test. More information about our Situational judgement tests
---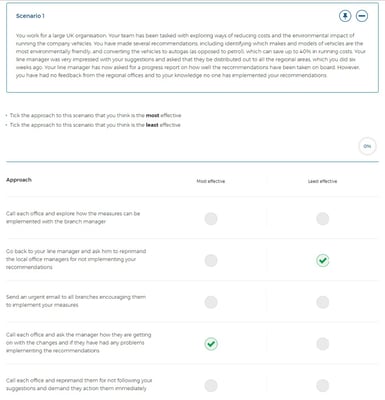 What you need to do
A typical situational judgement test consists of a series of scenarios with a set of multiple choice solutions. Your job is to choose which solution or approach is the best response to the issues described in the scenario.
Sometimes you have to choose the best approach as well as indicate which approach you think is least effective. You may also be given the option to suggest your own, alternative solutions.
---
How to do well
Situational judgement tests generally measure a mixture of style and ability. This means there may not be answers that are definitively right or wrong. Instead the options you are given to choose from vary in degrees of right or wrongness. Here's how to do your best:
When responding to the scenarios you should

pick the approach that you feel reflects the best way you would deal with the situation in real life, rather than the solution for which you think the employer is looking
Situational Judgement Tests are usually timed so you should

work quickly but carefully. Do not dwell too long on a single scenario
The assessments work best when you complete the test in a

single sitting in a quiet environment
The scenarios should reflect real situations in the job.

You can ask yourself if you would enjoy dealing with similar issues on a daily basis