Situational Judgement Test Advice
---
How to pass a Situational Judgement Test
What you need to know:
What is a Situational Judgement Test?
Situational judgement tests are somewhere between an ability test and personality questionnaire. You will be presented with one scenario at a time and have to choose the best (or sometimes worst) available option.
Your responses to each scenario are used to build a picture of your style and abilities in relation to analysis, problem-solving and decision-making.
Employers use Situational Judgement Tests to:
Understand how you might respond to real situations and challenges in the job
Identify the effectiveness of your judgement
Give you an insight into the situations and demands you would face in the job


The results from situational judgement tests are usually combined with information from other tools and activities, such as application forms, assessment exercises and interviews, which can give you the opportunity to comment and elaborate on your responses to the test.
---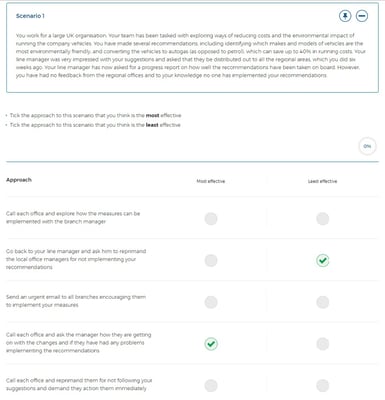 What you need to do:
What does an SJT involve?
A typical situational judgement test consists of a series of scenarios with a set of multiple choice solutions. Your job is to choose which solution or approach is the best response to the issues described in the scenario.
Sometimes you have to choose the best approach as well as indicate which approach you think is least effective.
---
How to do well in a Situational Judgement Test


Situational judgement tests generally measure a mixture of style and ability. This means there may not be answers that are definitively right or wrong. Instead the options you are given to choose from relate to different behavioural styles and competencies.

Here's some of our situational judgement test top tips and tricks:
When responding to the scenarios you should pick the approach that you feel reflects the best way you would deal with the situation in real life, rather than the solution for which you think the employer is looking
The assessments work best when you complete the test in a single sitting in a quiet environment

The scenarios should reflect real situations in the job. You can ask yourself if you would enjoy dealing with similar issues on a daily basis
There are no right or wrong answers
---
Situational Judgement Test FAQ's
What does a Situational Judgement Test measure?
Situational judgement tests will typically measure a combination of candidate's style and ability. Generally SJT's don't have definitively right or wrong answers, however you will need to select the option that you feel best deals with the scenario being presented.
What's the format of a Situational Judgement Test?
Situational Judgement Tests will typically provide you with a hypothetical workplace scenario. You will then be asked to identify the most appropriate response, these scenarios will usually be related to the job role you're applying for. After reading the scenario and available options you will then be asked to identify what you think is the most and least effective approach.
How do I prepare for a Situational Judgement Test?
Make sure you have thoroughly researched the job role you're applying for. Situational Judgement Tests present test takers with a range of scenarios that are applicable to the job role on offer, therefore, in order to be able to answer the questions to the best of your ability, it is vital that you at least have a basic idea of what the role entails. If you haven't done already, it is a good idea to contact the employer beforehand and ask for a full job description so you know exactly what you will be doing should you be successful in your application.
How much time will I have to complete my Situational Judgement Test?
When you have selected your situational judgement test in the Psycruit platform, you'll then be presented with an instruction page that shows your time limit for the test and the total number of questions. Once you select the 'Start test' button, the test and timer will then begin.
What happens if I lose my internet connection during my SJT?
This is not a problem – Psycruit always saves your last page of responses. You can log back into Psycruit using your email and password (we will have sent you an email confirming your login details when you register, but you can also ask for a password reminder). You can then pick up where you left off.
If your assessment is timed and you leave midway through, then you will need to request a reset of the time limit from the individual responsible for your assessment process.
What happens to my data after my SJT assessment is complete?
After completing your SJT your data will be automatically deleted after 6 months in line with GDPR. We take data protection and security seriously and are ISO certified. You can view our certification here (Cert. no. 291682018).
What happens once I've completed my Situational Judgement Test? / Will I be able to see the results?
Different organisations will generally have different methods to their recruitment process. Therefore, if you would like more information about your application, it's a good idea to contact the organisation (and your recruiter if applicable) and ask for more information. This can be a good habit to get into as it shows that you are keen on receiving feedback and interested in the role on offer.
If your SJT is the result of a training or development programme then you should expect to receive feedback and be shown what your results mean in terms of your development.
---
Practice Situational Judgement Test Questions
---
Other resources:
Situational test pass books:
https://www.amazon.co.uk/Alan-Redman/e/B005J513Q6/ref=dp_byline_cont_book_1
Situational judgement test definition:
https://en.wikipedia.org/wiki/Situational_judgement_test